You've been misled. The new frontier of mobile connectivity isn't 5G or even 6G, it's satellite. We saw it last year in Apple's unveiling of its SOS via satellite-capable iPhone 14 handsets. This year it's Qualcomm laying the groundwork at CES 2023 for a legion of satellite-based two-way-messaging-capable Android phones in 2023 and beyond.
Demonstrating satellite communication capabilities – especially ones on mobile test platform handsets, and with software that's propriety and many steps from consumer availability – isn't easy. Even when you're only trying to do a simulated test, you want to take extraordinary measures to prove that your satellite systems work. And in lieu of that, you set the mood.
Qualcomm's big idea for demonstrating Snapdragon Satellite to an eager group of tech journalists was to take us far, far away from the bustling, neon light-filled, gambling mecca that is Las Vegas.
After piling into a party bus (complete with stripper poles), we drove almost 20 miles outside of the strip, past the gambling towers and the aging old-school Vegas casinos like Golden Nugget. We drove until the landscape was barren and dotted with nothing but scrub. With the metal erector-set-like power lines standing like sentinels in the distance (and reminding me of that scene from Seven), we all piled out of the bus and onto the crusty desert soil. This would be Snapdragon Satellite's proving ground.
There may still be vast swaths of earth that aren't covered by cell signals, but as I glanced at my phone, I found even though I couldn't spot a cell tower, I still had strong 5G.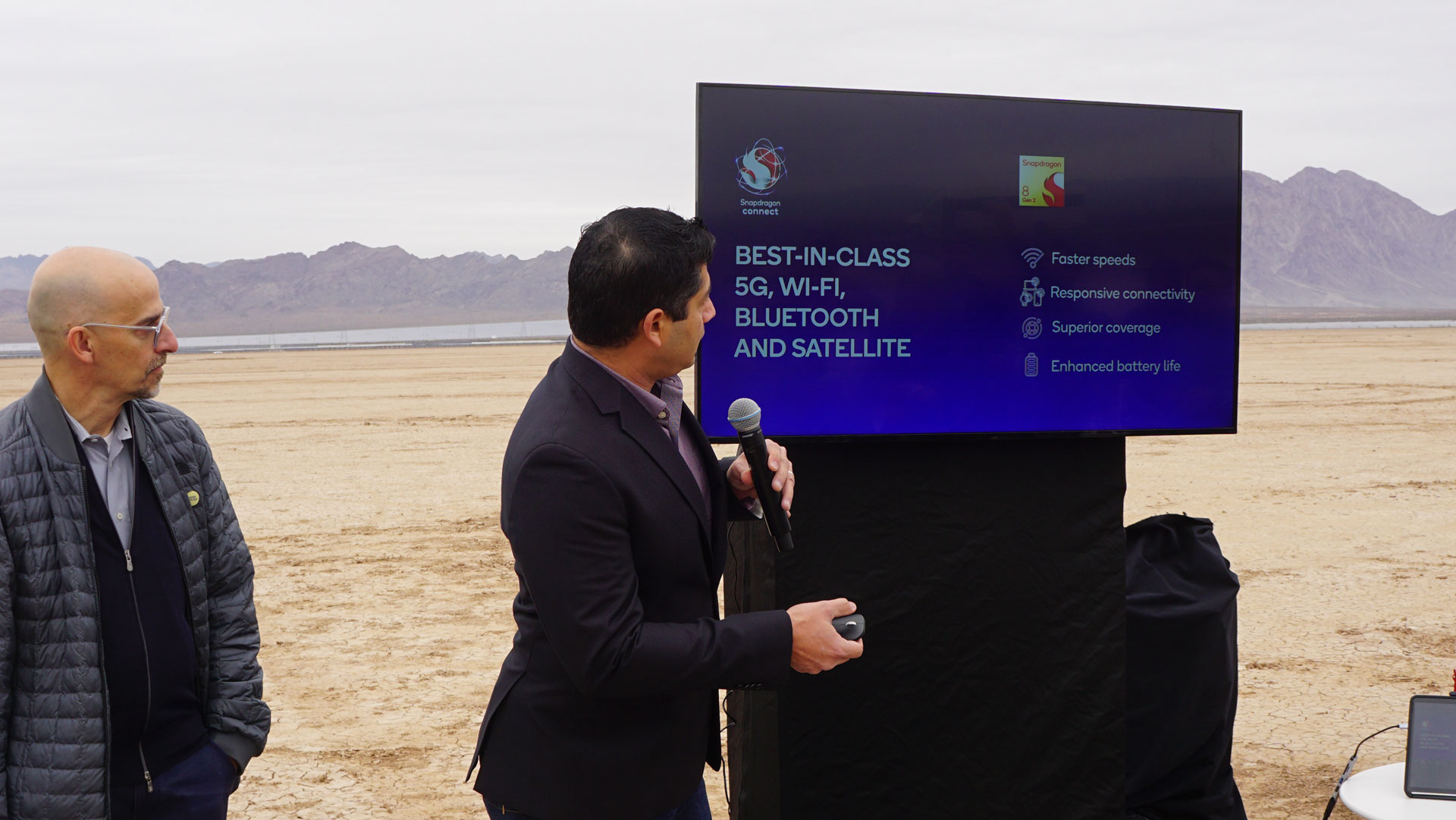 Though Qualcomm and, by extension, Android phones will be late to the consumer-grade satellite communications party, Qualcomm is coming at it from a different direction. Sure, this system can, with the help of partner Garmin, provide emergency satellite communication and rescue services, but Snapdragon Satellite will start with something that perhaps more consumers will want to use: satellite-based two-way texting.
Based on Qualcomm's Snapdragon 8 Gen 2 SoC and the Snapdragon X70 5G Modem-RF System will use new 1616hz and 1620hz bands to communicate with a vast network of low earth orbit (LEO) Iridium satellites. 
Unlike Apple's SOS via Satellite, which currently only covers North America, Canada, and Europe, Qualcomm and Iridium promise "pole-to-pole" coverage. The Iridium network is larger than Apple partner Globalstar's network and Iridium execs told me it's newer too. They also told me that while they have an LEO, Globalstar's satellites operate in less desirable medium earth orbit (MEO) 
Instead of using the system when you're in trouble and without Wi-Fi or cellular connectivity, Qualcomm's Snapdragon Satellite is a use-anywhere, anytime system.
Wanna text from a cruise ship? Go for it. Want to send an emoticon while hiking in the woods? This satellite is yours.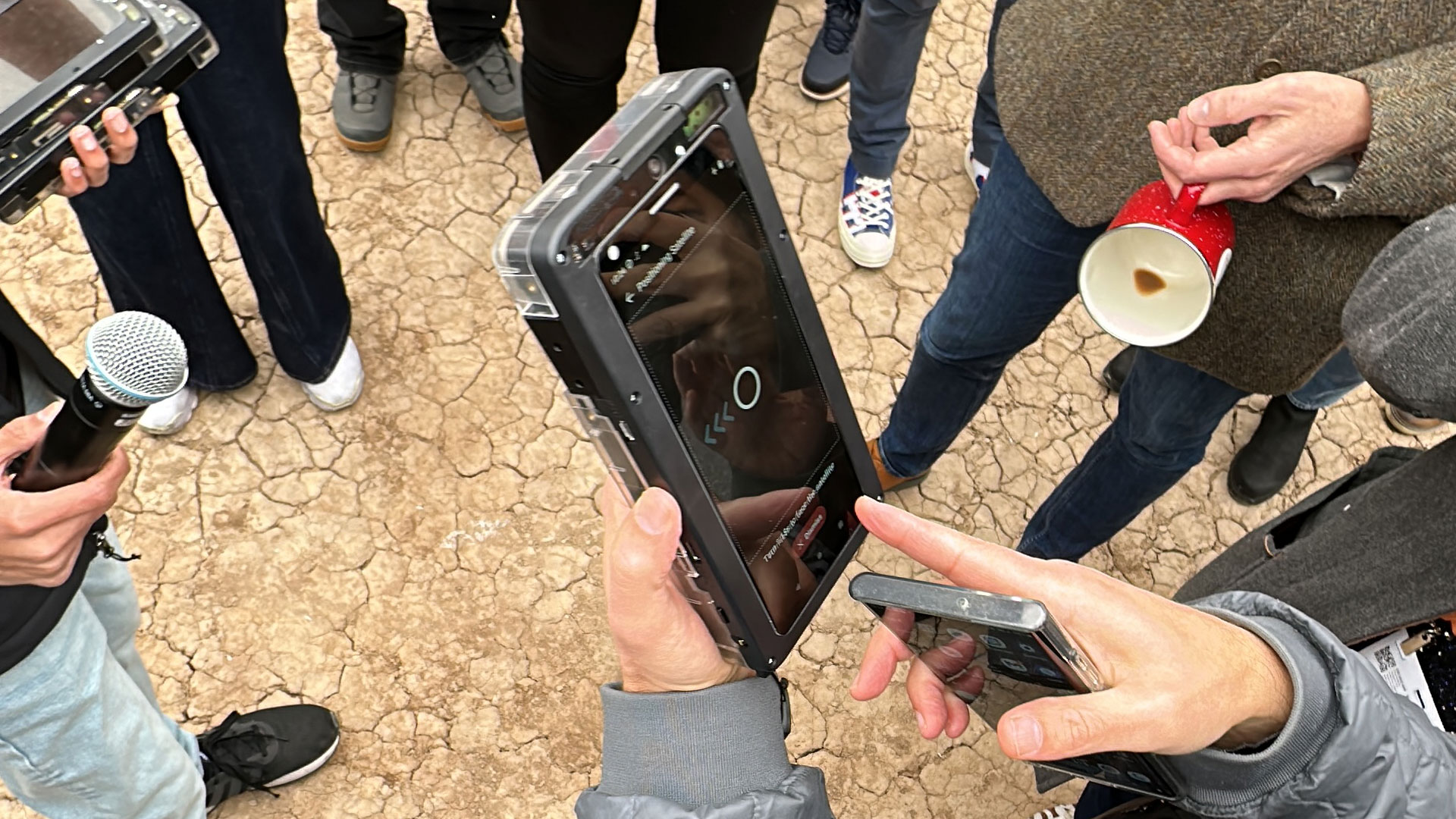 Satellite systems have lower bandwidth than cellular-based ones. As a result, Snapdragon Satellite is not a full multimedia messaging system. There's a strict 140-byte limit per message. The custom app keeps track of it for you.
As for how you use it, you start with the Snapdragon Satellite App and use your current phone number as identification. You can only, however, satellite text someone in your contacts list. As demonstrated to us, a Qualcomm rep selected a contact through the custom app and was guided to point the phone toward the nearest orbiting LEO Iridium satellite.
Like Apple's SOS via Satellite solution Snapdragon Satellite doesn't need a special external antenna. Qualcomm told us a different antenna might improve performance, but a mid-band one would work just fine. The key is that the antenna is built into the top of the phone, so it's easy to point it at a nearby satellite.
Since we were out in the middle of nowhere with nothing but parched earth stretching out as far as the eye could see (there was a mountain range in the distance), the demo phone with an integrated satellite antenna quickly got a clear, unobstructed view of a satellite. The messages can take as long as 10 seconds to send, but in this case, it was instantaneous.
Qualcomm execs held another Android phone that received the message as if it had come through a regular cell network – the system does use your current phone numbers.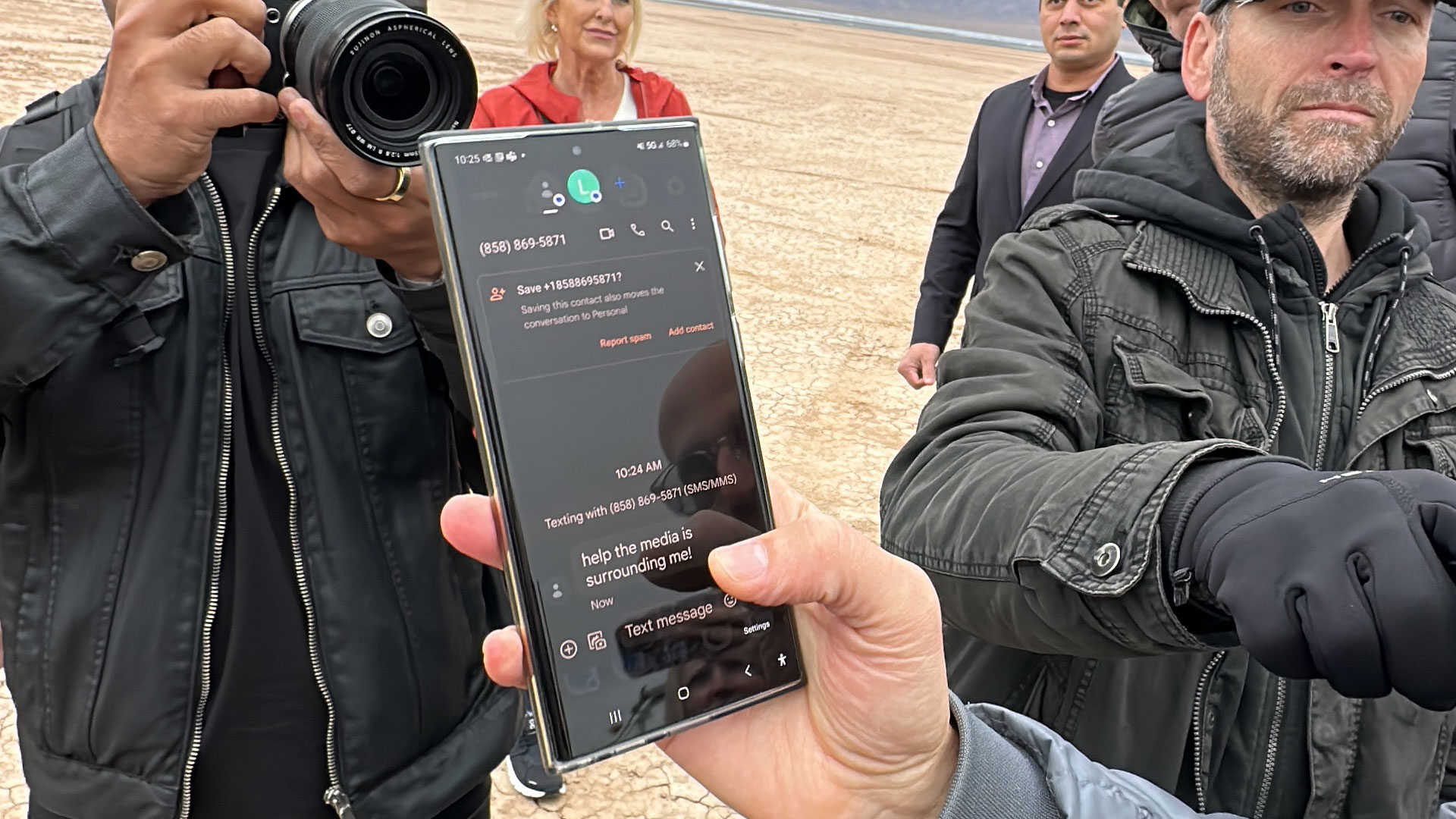 You could also use the Snapdragon Satellite system in an emergency. In this case, your text for help might be routed through Garmin's existing call center systems. Qualcomm didn't demonstrate the emergency use, though, saying they didn't want to fake an emergency. I was a bit surprised since Apple figured out how to do exactly that with its system when I tested it a couple of months ago.
While it's fair to assume that future Android phones might feature Snapdragon Satellite, Qualcomm didn't mention a single partner. They did tell us that the bands were so new that no partner could have supporting phones in the near future. This more or less cuts Samsung's anticipated Galaxy S23 lineup, expected to launch early next month, from the satellite communications mix. Yes, the phones will have the requisite premier Snapdragon CPUs and even the right modem hardware, but they won't have the components for the new bands or, probably, the supporting software.
Plus, Android handset manufacturers have to figure out how they want to implement Qualcomm's satellite texting software. Will they integrate it themselves? Will they turn to carrier partners for support? That's unlikely since carriers move so slowly. Might they look to third-party companies like WhatsApp? It's possible.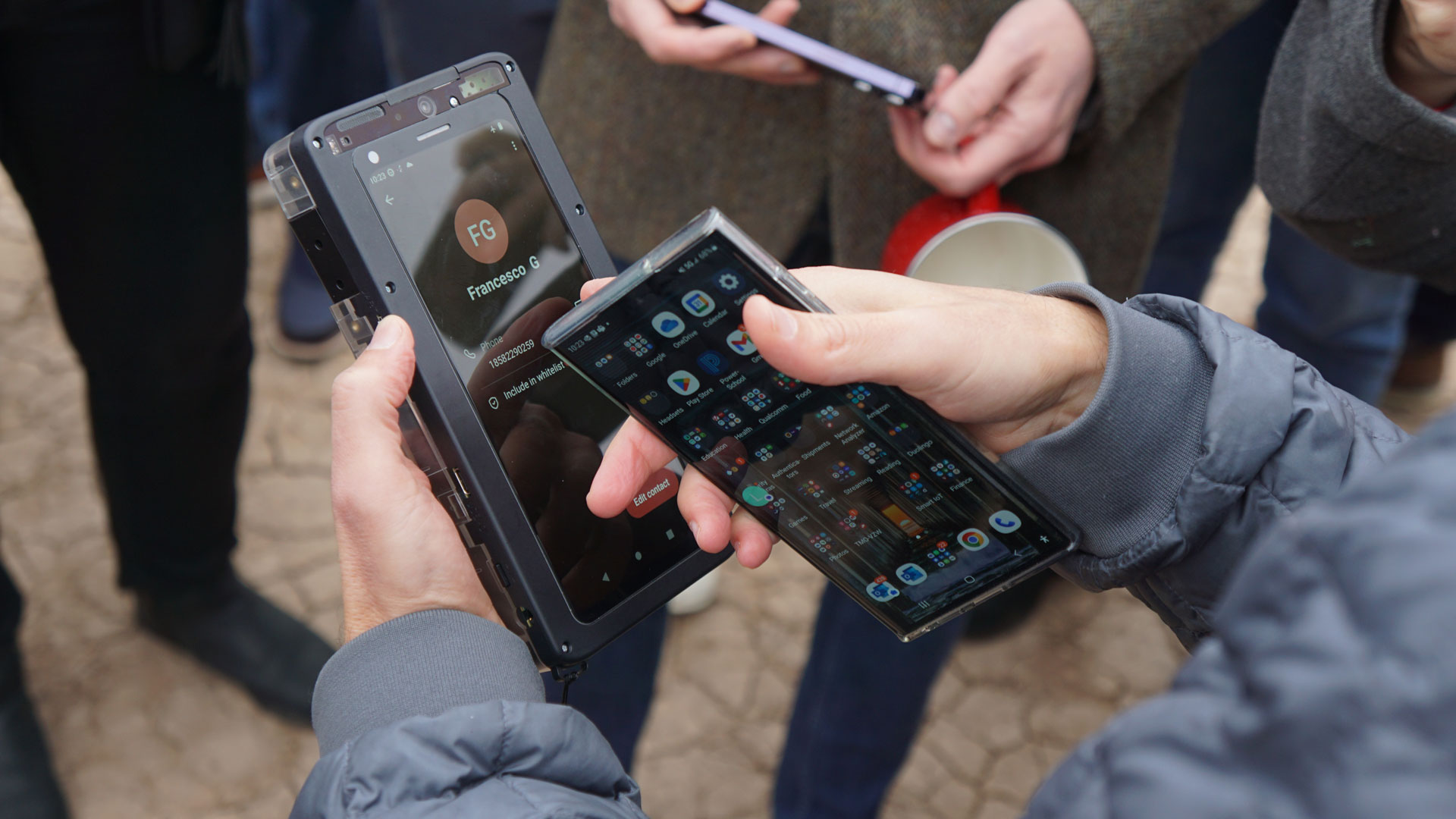 While Qualcomm doesn't expect whoever integrates satellite communications to charge much for emergency services, satellite texting for the heck of it will likely cost you. How much is anyone's guess.
The point is that while I saw Qualcomm Snapdragon Satellite working in the Nevada desert, it won't be until later this year that we'll see premium Android phones supporting it. Perhaps the next Samsung Galaxy Z Fold 5 or Z Flip 5 will get the honors.
After the demo, we clambered back onto the bus and I considered previous party bus passengers, wondering if they cared about technology or satellite texting. Probably not, but maybe.
Check out our CES 2023 hub for all the latest news from the show as it happens. We'll be covering everything from 8K TVs and foldable displays to new phones, laptops, and smart home gadgets, so stick with us for the big stories.