The XP Seven is Turtle Beach's premier new tournament quality gaming headset. Touting a laundry list of features, compatibility with all of the most popular platforms and a sleek, shiny appearance, the XP Seven looks at face value to be an exceptional headset, but does it have everything it takes to warrant its nearly $300 price tag?
The first thing to grab you about the XP Seven is without a doubt its packaging. The unit comes in striking black box, which itself is wrapped in a sleeve. The box looks matte and ominous – very nice to look at. Anyone who sees it would assume some sort of firearm or maybe some expensive jewelry was nested inside. Within the box the unit and console interface are packaged in one box, while the audio controller, the microphone and maybe a dozen different cables are packed into two more boxes.
If high quality headsets are what you do, then you won't be bothered by the huge assortment of cables. For everyone else, there's a quick start guide to help you get the unit up and running.
One of the biggest features the XP Seven is touting is compatibility with a number of platforms. I spent most of the time using it with my PS3, but I also played with it a bit on my PC and with an MP3 player. With the quick start guide, you'll have the unit connected in moments. For Xbox 360 players, there is a cable to connect the unit to your controller.
Once everything was connected, the overall setup did seem a bit messy. The XP Seven headset plugs into a breakaway cable. This cable plugs into an audio control unit. The control unit plugs into the console interface, and the console interface plugs into your console. This is most likely not a problem for anyone used to these kinds of luxury headsets. Just understand that this is not a wireless headset and that you're fully expected to sit attentively while using it.
Maybe I'm just used to doing whatever I want while wearing the tiny Bluetooth PS3 headset, but you'll need to be careful while wearing this big, high quality headset.
The unit itself is nice and heavy. It feels thick and high quality – like you could throw it against a wall and not cause any damage to it. It looks really nice too. The chrome trimmings and customizable MLG Pro plates are eye catching. The sturdiness of the unit combined with the fine packaging really help drive home the luxury feeling of the XP Seven. If you'll be chatting, you'll need to connect the microphone to the headset. If you'll mainly be using it listen to music or watch movies or something, then you won't need to.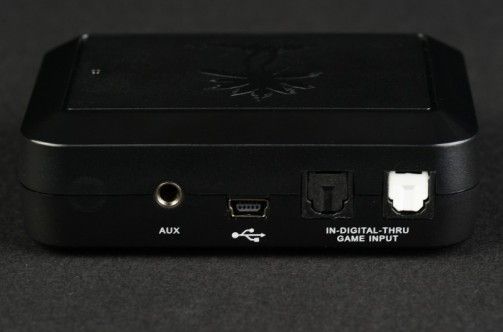 The sound quality of the XP Seven is absolutely superb. I was blown away listening to music and playing games while using it. It has wonderful sound quality.  The sound is very rich and crisp, even when turned up loud. It also cuts out sound from outside of the headset really well. In games, the clashing of swords and the rattling of bullets is intense and exciting. It's fascinating to think that such sharp, mind filling sound can come from something so small. Whether you're watching a movie, playing a video game or simply enjoying music the surround sound just won't stop.
The sound from this unit gets deafeningly loud (for those of you into that) and is wonderfully clear, so A+ here.
The audio control unit includes a number of presets and functions to quickly and easily customize your listening experience. For example, using the chat presets you can mute other players. You can also mute the music, so that you hear only the other players. The master volume lets you quickly and easily turn everything down or turn everything up. You can easily switch between presets with the touch buttons and mute your own microphone. When the unit is functioning, the control unit and console interface flash with red and white lights. It looks very appealing in a dark room.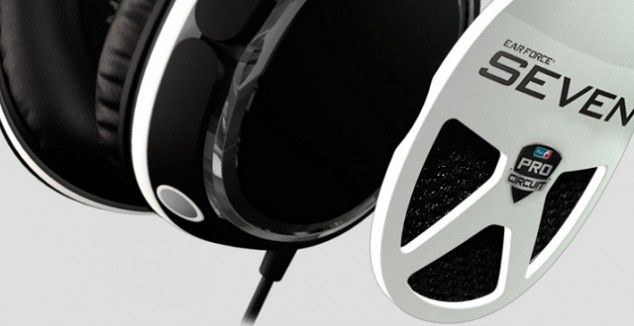 The microphone quality is very good. Players I spoke with informed me that my voice was louder and clearer than ever, especially compared to the Bluetooth I regularly use.
While the XP Seven generally seems like an amazing headset, I had one very serious personal issue with it. I have a larger than average head and the unit was incredibly tight while I was wearing it. I'm talking vice grip tight. I could only use the unit comfortably for roughly a half an hour at a time. If you have a larger head, then you definitely want to consider this since competitive and hardcore gamers use these headsets for such extended periods of time.
Since this is such a serious issue, I had to have some other people try the unit on. Everyone with bigger heads indicated that the unit was very tight, uncomfortably so. The guy with the medium sized head said it was indeed small/tight, but not too much so. My cousin with the smallest head said that it was perfectly comfortable and not at all tight. Incidentally, if you take the left and right headphones in different hands and pull them apart you can only stretch them for about four inches before you feel the resistance. Extending the unit did very little to alleviate this resistance.
This is more of a personal issue but definitely something you should consider. If you feel you have a larger head, then this might not be the unit for you. It was actually so tight that it induced headaches. If you have a smaller or maybe even an average sized head, then you shouldn't have anything to worry about.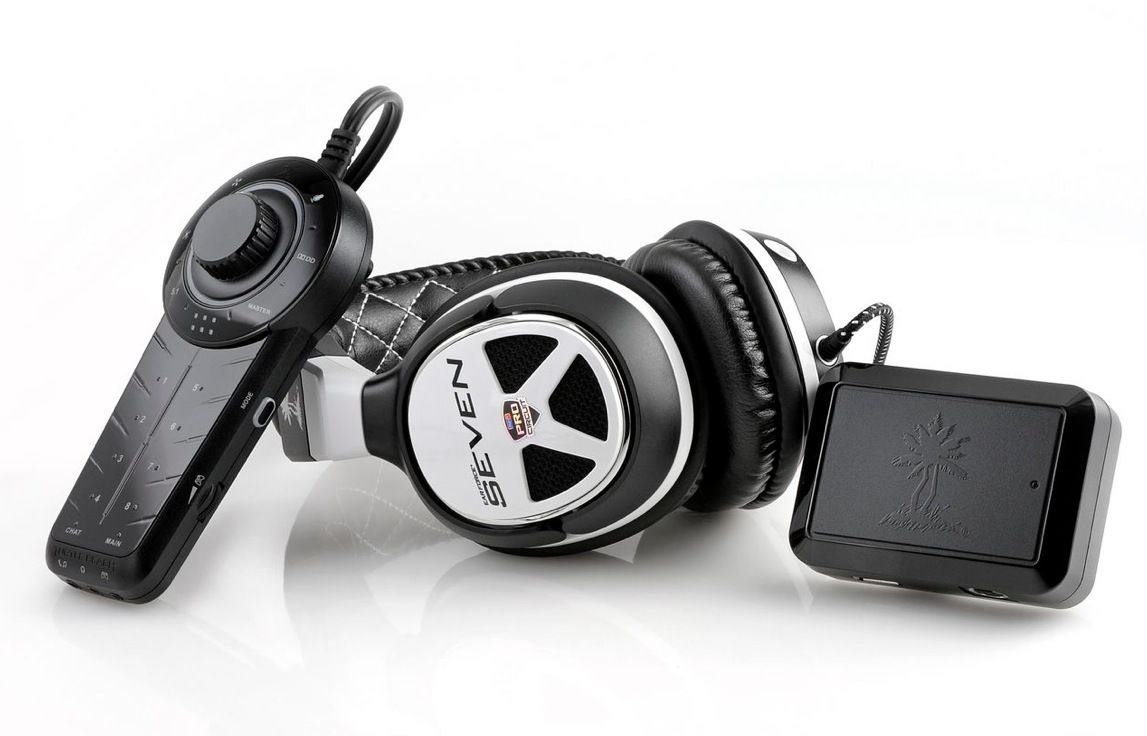 The XP Seven is certainly a premium gaming headset. When you observe the unit – with its sturdy, high quality feeling, remarkable sound quality and sumptuous packaging – you definitely feel like the price is warranted. It has a number of advanced features that I didn't really dig into, such as the ability to isolate and edit the volume of certain sounds and noises in games. This is a bonafied tournament quality piece of hardware, which justifies the somewhat cumbersome setup and tons of cables.
My only concerns would be the size of the unit and whether or not I could find something comparable for cheaper. If you have a smaller head, and a larger, looser wallet than me, then the XP Seven should meet all of your needs and then some.