When I first opened the package and started playing with the Sharkoon XTATIC SR gaming headset, I wasn't quite sure what to expect. Sharkoon isn't a name I've seen frequently, and I'm also not a heavy user of headsets for gaming. Typically my ears start feeling heavy, they get hot and I have to remove the headset anyway because it doesn't quite fit right. This isn't a failing of the headset design necessarily, but just an unfortunate occurrence when paired up with the apparent abnormalities of my ears.
So often a headset is designed for one or, perhaps, two platforms. You'll even see companies that have different headsets for different platforms, and they simply will not function properly if you mismatch them. That's where this XTATIC SR excels, quite frankly. The best part about it is that it comes with a seemingly endless number of cables, peripherals and odd contraptions to make it work with your PC, PS3, Xbox 360, iPhone or any number of other devices. So, you certainly are getting great bang for your buck if your gaming habits run the gamut of available platforms, like mine does.
In the box you'll find the headset (of course), as well as the detachable and highly adjustable microphone. There's an amp, which is the focal point of making games sound really good, as well as various cable attachments. There's a USB power cable to plug the amp into the PS3 or PC, a digital optical cable, various stereo connector cables for any possible use, and a cable to attach the headset to your Xbox 360 controller. As you can see, it really does include everything…or does it?
What I really liked about this headset, aside from the fact that it's easy to hook up cross-platform, is how comfortable it is. Like I mentioned, I've rarely used a headset that was comfortable on all fronts, but I think I've found it. It fits completely around my ear, so my ears don't get crunched between the outside ring of the headset and my gigantic head. At the same time, the ring is comfortable and supportive. The band is wildly adjustable, as well. Also, during some rather lengthy play and podcast recording sessions, my ears didn't get hot! I mean, a little heat up there is inevitable, but it was nothing to the extent of headsets I've tried before, so things seemed to breathe really well, and that's great.
Also, the microphone is crazy adjustable. It's also always good to have it detachable, because you don't always necessarily want that mic sticking down there if you're not playing a multiplayer game or chatting with your friends on Skype. Listening to music or spending a lot of alone time with that single-player RPG? Just pop the mic out so it doesn't get in your way.
The instructions that come with the headset are easy to understand, and there's one for each platform, detailing the various ways you can hook the hardware up. With the amp and without the amp for each device are two examples. This isn't rocket science, but at the same time, detailed instructions are always a great thing to have for those of us who may not be used to this kind of stuff.
Great sound is also a plus to this headset, especially with the amp in full force. Whether it's stereo sound or you're kicking it up a notch to full 5.1 surround, this headset sounds awesome. During the course of my testing I played several PS3 titles – all with Dolby 5.1 surround sound – including Catherine, Final Fantasy XIII, Portal 2 and Deus Ex: Human Revolution, and they all sounded amazing. Much better than with my surround sound speaker system, to be honest. In fact, FFXIII was probably one of the best titles to test this out with on my PS3, simply because the sound is amazing, regardless of what you think of the rest of the game.
With all those pros, it doesn't seem like I have any cons, does it? Au contraire, my good people. Unfortunately, the cons are pretty sizable, as well. I've looked at purchasing other headsets of this sort before and every single one I've looked at – from Razer to Turtle Beach to Astro – has had the full six-channel input into the amp, mostly for output from your PC which has five channels and a subwoofer. Here's the problem – this amp has no such inputs. It was completely useless for surround sound on my PC. My PC supports Dolby 5.1, but only via the individual outputs. This XTATIC SR only has 8mm analog and digital optical inputs. For the longest time I sat there trying to figure things out, thinking there HAS to be some other way, but no, there isn't.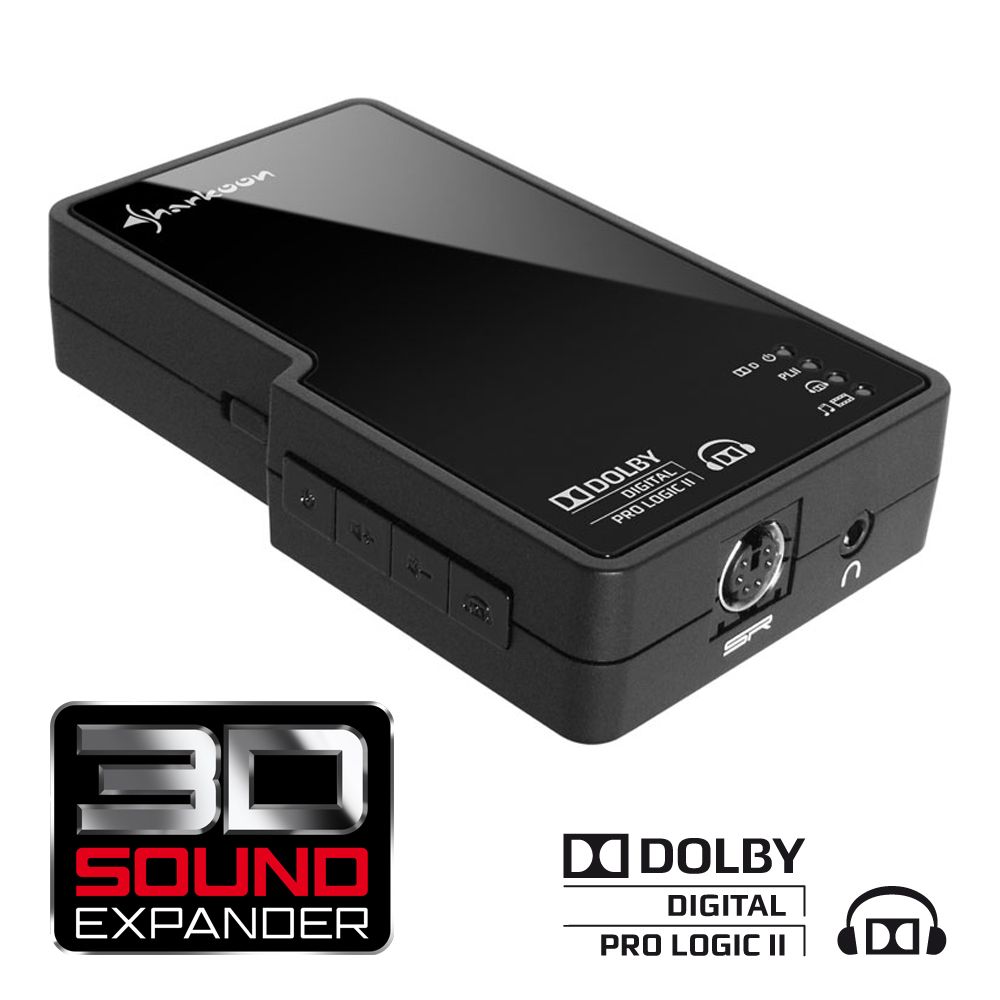 Talking to a couple friends who know PCs pretty well, they told me this is highly unusual. Most on-board sound doesn't have optical outputs, so you would have to buy a separate sound card for $60-100 (for the cheap ones) to get access to that. That's an extra expense I'm not going to invest in just to get surround sound on my PC, for a headset that already costs $140. The amp itself should have inputs for this situation just like all the other ones I've looked into purchasing in the past. This, in my opinion, is a huge failing of the package as a whole.
Sure, it works and sounds amazing on my PS3, which has an optical output for audio, but on the PC you're relegated to stereo sound if you don't have an optical output, and that just isn't right. Sorry, Sharkoon, you lose some serious brownie points for that one.
Another issue is the oddities of the device's USB attachments. Here's the deal. If you attach the device to your PC with the amp, you only need the USB cable which goes from your PC to the amp. That's it. Then it's just a matter of plugging the headset into the amp and you're good to go. Note here that the USB carries audio for both the mic and the headset itself, as well as power for the amp. It works perfectly fine (although, again, you only get stereo sound). Now, for podcasting and such, I didn't want to have to unplug the amp from my PS3 just to plug it in to the PC, since I really don't need it for that. The headset does come with a cable that has the separate, regular 8mm headphone and mic plugs, as well as a USB on the third prong.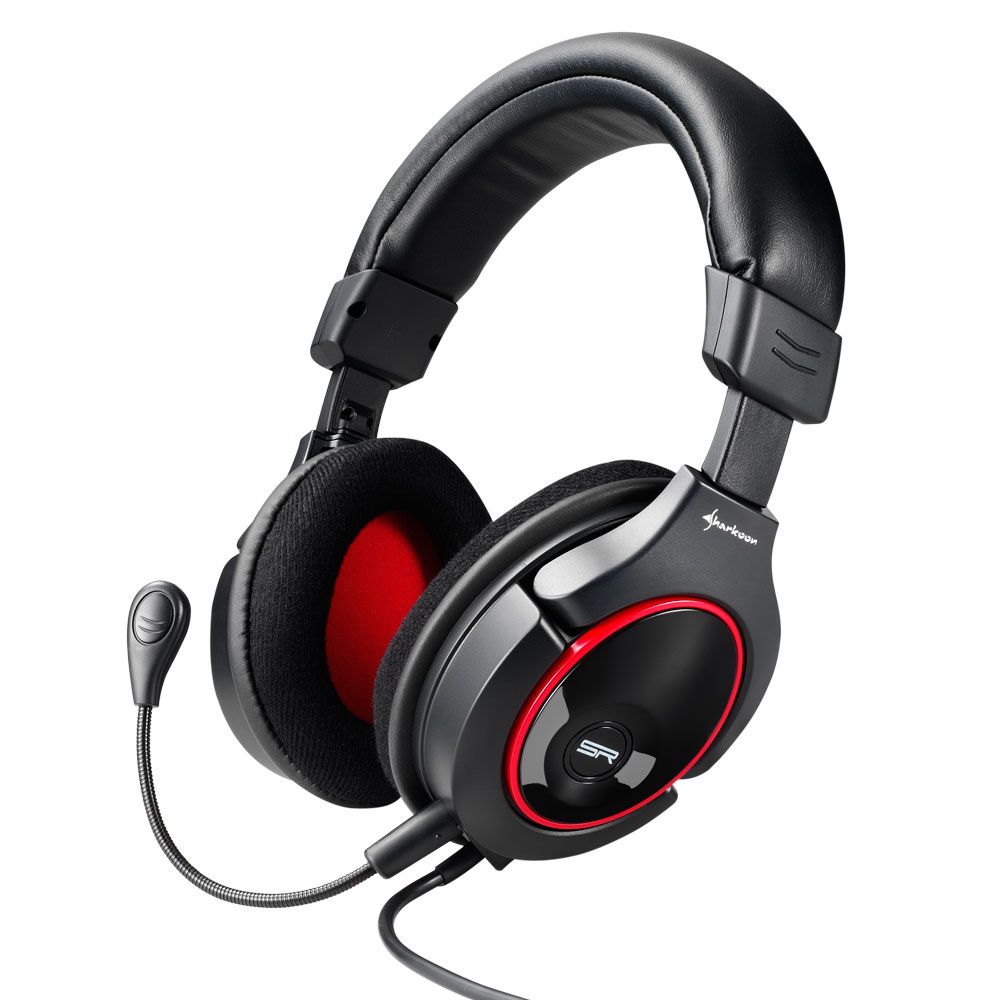 Now, logic would dictate that you can either use the individual headphone and mic plugs or the USB, right? I mean, some cheap-o $20 headsets come with a USB adaptor so you can use either or, depending on what you want, right? Right. Why is it, then that when I use the USB attachment here, I get headset audio, but no mic? Either it arrived defective, or this is another huge failing of the package itself. So, just to podcast, I had to plug the entire amp back into the PC. It doesn't really take a lot of time, but it is an annoyance that doesn't need to be there.
Overall, this headset and the accessories it comes with has a lot going for it, but the few issues that also exist with the package are pretty major, especially for heavy PC users that may not want to invest in additional hardware. If you're using this solely for your PS3 and 360 gameplay, it's awesome and sounds amazing. Don't get me wrong, the stereo sound on the headset on a PC is great, but it could be so much more for so many more people had the six surround sound inputs been built into the amp, so for that reason, I can't really recommend it above other headsets of its type for PC gaming with surround sound. Although, if you're contemplating buying one headset for multiple devices, this may be exactly what you're looking for.
[Note: For more detailed information and specs, please visit the headset's official site.]
Product Name: Sharkoon XTATIC SR

Product Distributor: Sharkoon Technologies
System Peripheral is Available For: PC, PS3, Xbox 360, iPhone, iPad, etc.
MSRP: $139.99
Review Product Info: A review unit for this product was provided to DualShockers, Inc. by the distributor for the purpose of this review.