If you've attended any gaming convention or trade show across the good old U.S. of A. in the last 3 years, odds are you've seen a booth for Gunnar. The company touts their spectacles as "high performance" eye-wear, and while some may raise an eyebrow at that claim, it really isn't too far off. We were sent over a pair of their Gunnar Call of Duty: MW3 Gaming Eyewear for review and I've come away very impressed with the findings. Read on for my full thoughts.
This is a first here on the site, as the opportunity to review gaming eye-wear is something that comes along about as often as a first person shooter JRPG. Read: never. I mean they're glasses, right? How much can it really change things?
Well for starters, the officially licensed Call of Duty: MW3 shades are the cream of the crop of the Gunnar line-up, coincidently they also have a price tag of $99 dollars to reflect that; which may seem like a bit much, especially if you're a gamer on a tight budget. To ease the pain though, Gunnar does manage to throw in both a hard and soft officially branded Call of Duty: MW3 case, if you're into that sort of thing. Besides all of the officially licensed jazz, the moment you actually hold and wear them, you'll immediately understand the premium price.
Once in your hand you know that you're holding something made of quality. As a person who happens to collect and wear designer and high-end sunglasses, It's something that I immediately picked up on after handling them for the first time. The frames have a nice and balanced weight to them and that's because of the magnesium / aluminum build. To the eyes and the touch they have a gun-metal look and feel, a welcome choice especially when you consider that these are marketed towards the Call of Duty crowd.
The shape of the frame is very much a traditional aviator style. There's a subtle decorative design right above the bridge of the nose that helps to further re-enforce the military look of the frames. The hinges are spring loaded and have room for expansion for those of you out there that have a bigger than average melon to wrap these around. On both sides of the frames, you'll find the official Call of Duty: MW3 logo embossed into the metal. A nice touch for fans of the game.
When you initially start wearing them it does take a while to adjust to the amber shaded lenses. And at times, especially if you have a lot of incandescent lights around you, when you look at anything that isn't a screen the amber can be a bit overbearing. One of the immediate highlights is that the lenses do have a slight curvature to them which enhances and adds an ever-so-slight zoom to everything you view. The difference was significant enough that it made my 55" screen seem even bigger.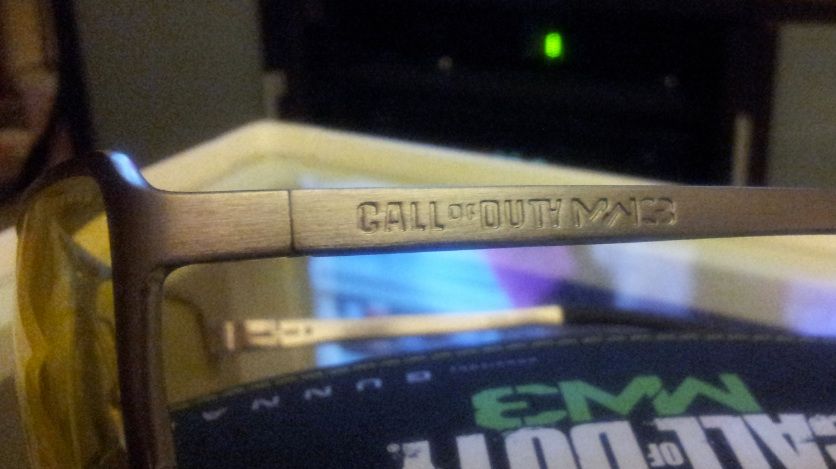 Once focusing your vision to any type of electronic display, the amber coloring of the lenses seems to fade away. What's nice is that color reproduction is actually enhanced. Things really look as they should. Colors are more vibrant, the image is slightly clearer, and everything you look at has a nice warm and darker contrast. If you know anything about displays, the better the contrast the better the "Pop" effect you get from the other colors.
The real difference maker here is how much these save your eyes. If your lifestyle is anything like mine and you constantly find yourself in front of a screen — whether it's at work, writing things up for the site, or having late night gaming sessions, then you know my pain. By the end of a typical day my 27 year old eyes are pretty badly beat up.
Surely enough after I started wearing these during my play time, I can say that my eye fatigue was reduced significantly. And as an added bonus, while I'd love if these were made of an even lighter material like carbon fiber, the magnesium and aluminum build is light enough that the glasses don't get annoying after extended periods of time. I know that I may sound like a late night infomercial but now my time in front of the laptop doing DualShockers stuff or playing late at night is much more pleasant.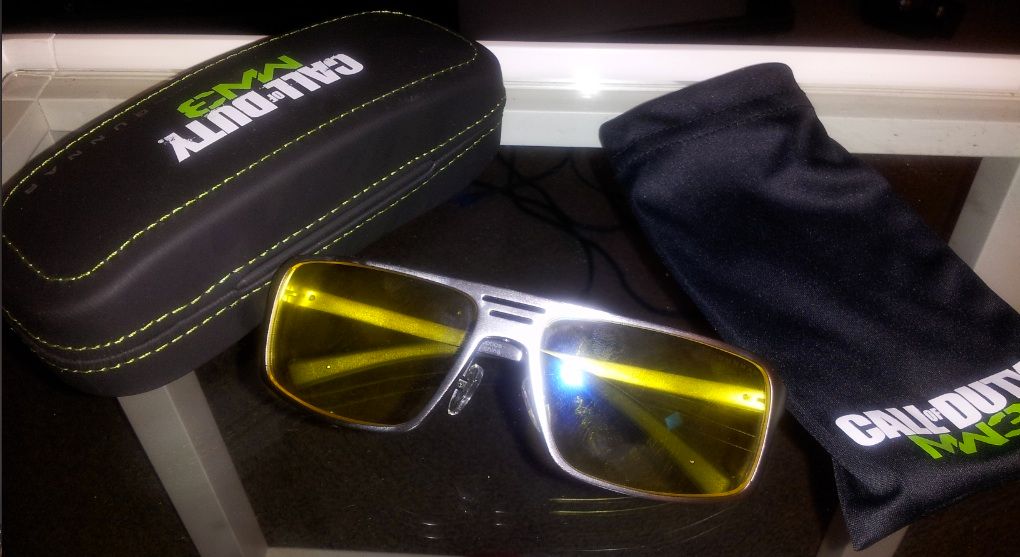 After spending some real time with the Gunnar Call of Duty: MW3 Gaming Eyewear, I can definitely say that they're really a difference maker. Don't get it twisted though, these wont make you play better or get you ready for MLG, but the one thing they do, and do well, is work as advertised. Is it good enough to merit a $99 purchase? I guess that's all a matter of how big of a Call of Duty fan you are; but if you want the luxury of saying goodbye to gaming and computer screen related eye strain and fatigue, Gunnar does offer models in different styles, $20 dollars cheaper. Either way if you've got the money I have to say that I highly recommend these.