| | |
| --- | --- |
| Our Score | 3/10 – Bad |
| The Good | Kudos to Codemasters for getting the full game into VR, and the fact it runs quite well |
| The Bad | Miserably low resolution, poor graphics, and no VR controls make for a bad time. |
| Release Date | January 12, 2023 |
| Developed By | Codemasters |
| Available On | Meta Quest 2, Meta Quest Pro |
| Reviewed On | Meta Quest 2 |
In the four or so years since the release of the original Oculus Quest, players have been given the chance to duel Darth Vader in Star Wars: Vader Immortal, go to war in Medal of Honor: Above and Beyond, survive the zombie apocalypse in After the Fall, and much, much more. It's been an embarrassment of riches, for sure, but one genre that has yet to be done justice on the Quest line of headsets is the racing genre. Sure, we've had a few half-decent kart racers, but we haven't had anything close to a realistic racing game. Well, now we do with GRID Legends, but it's far from the experience that fans have been waiting for.
I'm assuming that most who buy into GRID Legends VR for the Quest 2 and Quest Pro (it's not available on the original headset, for reasons which will become clear soon) will already have some idea as to what the game is about. However, for the sake of covering all bases, here's the elevator pitch.
GRID Legends is a racer that's a blend of simulation and arcade. It's not as unforgiving as Gran Turismo, but it's nowhere near as arcade-y as Ridge Racer. Think Forza Horizon without the cringe voice acting and the secretly sinister world. It's a great game for racing fans who want to swing one way or the other, with the game's options allowing players to tailor the experience to their playstyle without committing too far to one ideal. The original game was a fantastic experience with a well-structured Career Mode and a surprisingly decent story mode, all backed up with an online multiplayer suite to keep ardent racers busy for months on end.
GRID Legends VR is essentially the exact same game. You get every feature found in the original, which is impressive but also goes some way to inflating the game's install size to a whopping 31GB, which is bonkers for what is basically a mobile game.
ALSO READ: The Simpson's Hit & Run Needs a Sequel, Not A Remake
The problem with GRID Legends VR is that it just doesn't feel like a VR experience. Fair play to the developer for cramming in the entire experience, but it has definitely come at a price, and the cost is ultimately paid by the end user with an experience that doesn't match the price tag.
Booting into GRID Legends VR for the first time, you're thrown straight into the story mode – exactly as in the original non-VR version – and it was here I let out my first sigh of disappointment. As my car moved into position and handed the controls over to me, I reached my hands up instinctively to take hold of the wheel, only to find I had no presence in the game.
Sure, I could look around the inside of the car and watch my virtual feet tap the pedals as I pressed the Touch controller triggers, but my in-game arms and hands were firmly set in place with my input being the left stick on the Touch controller. Is it too much to ask for the most basic of motion controls in a VR game? I was reminded of DriveClub VR for the PSVR and how it used the DualShock 4's motion controls to great effect, a necessity due to the lack of decent input methods for Sony's debut headset. But this isn't the first Quest headset, and it isn't hampered by little sticks with balls of light on the end of them. This is a premium bit of kit with more tech packed into it than the PSVR, so what gives?
The problem with GRID Legends VR is that it just doesn't feel like a VR experience.
The disappointment doesn't stop at the controls, sadly. The presentation is also – to be incredibly polite – utter crap. The resolution is super low, meaning it's difficult to make out any details beyond the barebones cockpit. The insides of vehicles look decent enough, but I'm not spending my time admiring the upholstery when I'm blitzing down a straight stretch at 150mph; I want to clearly see the upcoming turn and where the other racers are on the track. Occasionally, I smashed head-on into another car. Not because of my own idiocy, but because the other car had spun out up the way, and because of the miserably low resolution, I genuinely couldn't tell that the vehicle was sideways on until it was too late.
Pair the low resolution with the low detail, and you've got a game that looks more at home on a PS One than a 2023 VR headset. Cars will visibly transform from LEGO bricks on wheels as you approach them and their detail level loads in. It makes for a poor experience that takes the player out of the moment, though I'd argue that in my case, I never really felt like I was ever in the moment.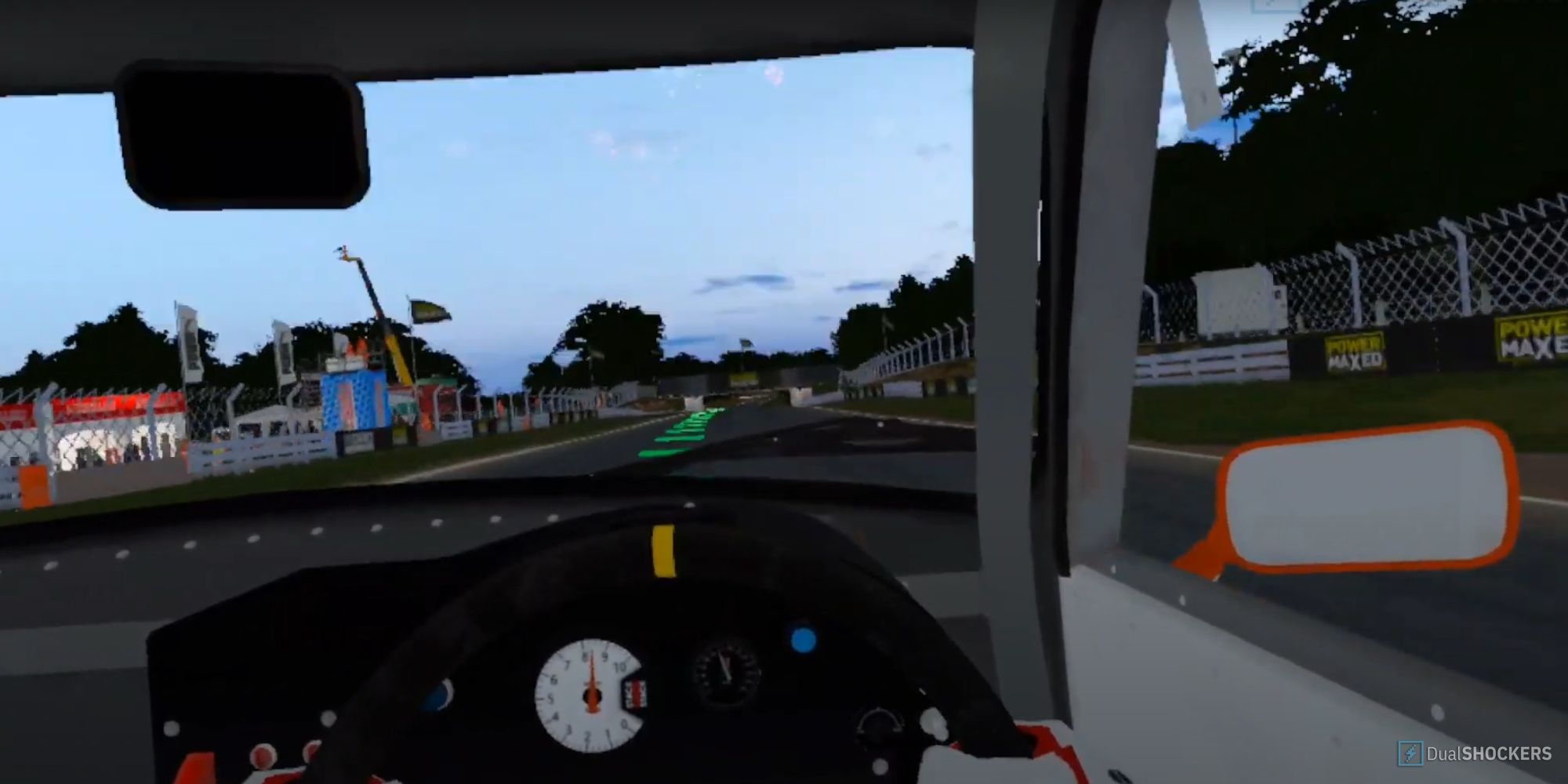 Let's go back to DriveClub VR for a second. When I first played that particular racing game, I puked my guts up, laughed at the ridiculousness of the situation, and carried on, because it was brilliant fun. Even now, my brain and belly have a duel to the death whenever I dip in for a Sunday drive through the snowy mountains of Norway.
That might sound like fresh hell to some, but to me, it means the VR is working – my brain thinks I'm away on a driving holiday, but my body knows I'm sitting on my couch. I never had this kind of disconnect with GRID Legends VR, and that's not because it does it better. My brain and my body saw the situation, realized they both were being duped, and then agreed to a ceasefire. Meanwhile, I was sat glumly in my office chair, hands hanging down at my sides, wondering if it's too late to refund my purchase.
GRID Legends is a great game. GRID Legends for Meta Quest is not. I'm impressed that Codemasters managed to cram a full console racing game into a VR headset, but the compromises required to do so are too many. For racing fans waiting for a decent native Quest racer, this unfortunately isn't it.
NEXT: More Games Need High On Life's Talking Guns