Denji and Asa are on a date.
Chainsaw Man chapter 119 was briefly on hiatus, with it now being revealed that the chapter will release on January 31 at 7:00 AM PST. The new chapters of Chainsaw Man will become available to read on the official website of Viz Media and Manga Plus simultaneously. Here is when chapter 119 releases across the world.
Pacific Time: 7:00 AM
Central Time: 9:00 AM
Eastern Time: 10:00 AM
British Time: 3:00 PM
European Time: 5:00 PM
Indian Time: 8:30 PM
Japan Time: 12:00 AM
RELATED: Chainsaw Man Season 2: Everything We Know About The Show's Renewal
After the two-week break between chapters, readers are wondering if the new chapters will continue to follow the same two-week release schedule that the series previously adopted. If that does prove to be the case, then we will likely hear official communication soon. With a long break being announced, the fans are obviously disappointed, especially given the incidents of the previous episode, where we saw some funny bits between Denji and Asa. Now in chapter 119, we will see the two heading to Denji's house and the boy explaining the house rules to her.
Last Time on Chainsaw Man…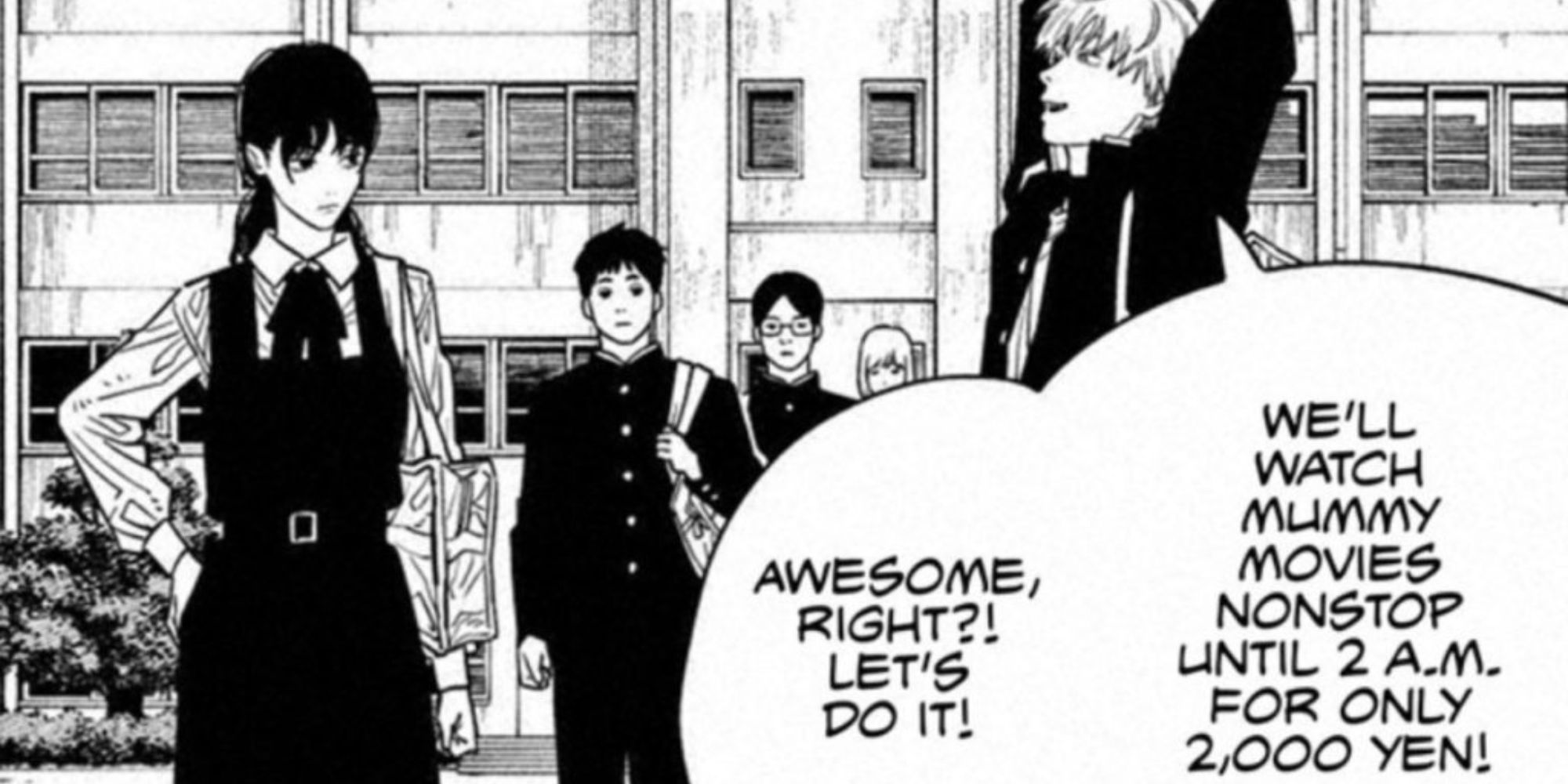 Yoru attempted to weaponize Denji several times, but she failed, while Denji stood confused and watched her speak, "Denji Spinal Cord Sword." He believed it was a fun way to say goodbye, so he held her head and said, "Asa Spinal Cord Sword," which came as a surprise for her. Yoru was confused why Denji was not turned into a weapon, and Asa assumed that in order to turn a human into a weapon, the target should have shared the same feelings as her, just like it happened while turning Tanaka.
Yoru felt tired and decided to go to bed, and Asa asked her about Fami. She replied that Fami was the Famine Devil, and it had been a long time since they last met, so she couldn't even recognize her. Yoru warned Asa and told her to stay away from Femi, stating that she was crazy. Before she could ask her something else about Fami, Yoru passed out. She tried to wake her up and told her to take a bath, but she was too tired for that. Asa wondered why Denji didn't like her even after she had done so much and started feeling irritated at him.
The next day, Denji told Asa about his plan for All-Night Movie Marathon, taking place in a local movie theater for only 2000 yen. But Asa claimed that she didn't have that much money and that the video rentals would be cheaper. Denji asked if she had a VCR at her place, to which she denied, and asked if he owned one, and Denji replied in affirmation. Finally, they decided to watch a movie at Denji's house, but he asked her to follow the house rules properly. She asked what would happen if she didn't follow the rules, and Denji replied that, in the worst case, she could die. The chapter ends with Haruka spying on them and looking surprised at Denji's words.
NEXT: Most Powerful Chainsaw Man Characters, Ranked